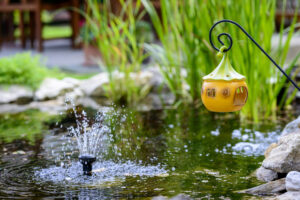 There is very little that is more relaxing than enjoying a beautifully landscaped yard. Although, that serene experience can be further upgraded with the addition of a landscape water feature. 
Our attraction to water feels almost evolutionary. Animals and people alike benefit from having a beautiful water feature close by. 
Common Types of Water Features
If you are interested in enhancing your outdoor living areas, there are a few ways that are better than adding a water feature. They can act as focal points in your relaxing oasis by adding an element of serenity to your landscape. By adding a water feature, you guarantee the addition of a tranquil spot where you can spend hours of enjoyment.
When determining what type of water feature you want, take into consideration how much space you have, your budget, the style of your home and its current landscaping, and the overall effect you are looking for. 
Fountains Are a Lovely Traditional Choice
One of the most popular water features has always been and will likely always be the fountain. They can be very small, tabletop-sized, to very large installations. They can be molded from concrete, made from metal or stone, or even ceramic. 
They are beautiful when used as a centerpiece for a garden or to contribute visual appeal to a conversational area, a patio, or a courtyard. 
Waterfalls for a Natural Look
The sound of a waterfall water feature can be especially soothing. These water features can add a natural look to your landscaping and can be made to feel as if they are not manmade at all. Waterfall materials can be paired with existing landscapes so that they look as if they are simply extensions of the existing nature. 
Waterfalls can be made of stone, concrete, or metal and can be designed as stand-alone structures or can be added to ponds, pools, or streams. Consider where you will put it, how you want it to sound, and how it will be lit so it can be enjoyed in the evening hours as well as during the daylight.
Often, waterfalls can be added to hot tubs, spas, and swimming pools for a natural grotto-type effect.
Ponds Are Another Natural Looking Water Feature to Consider
For those considering a natural look, a pond might be just the feature you are looking for. You can choose the shape and size so that it is beautifully incorporated into your landscape design. They are often constructed from materials like concrete or fiberglass, and many are designed around preformed liners. 
Once your pond is installed, you can plant aquatic plants inside it or stock it with fish. They can be installed in a number of locations. Speak to your landscape contractor with Siara Designs about the best place to put your pond.
Streams Are Another Way to Get a Beautiful Water Feature
The addition of a stream is another way to enhance your yard with a natural-looking water feature. They can recreate the feeling of a natural stream meandering through your yard so that they are designed to be part of the landscape architecture. They can be made from materials like stone, concrete, or metal and can be enjoyed nearly anywhere.
Water Spouts are an elegant way to add a simple trickling water feature to your landscape. They can shoot small streams of water into the air to create a calming sound. They can be made from a number of materials and can be placed strategically throughout your yard to add a delicate water feature that makes a big impression.
Birdbaths Connect Wildlife to Your Garden
If you enjoy bird watching or just seeing wildlife visit the areas you have curated for them around your home, you may enjoy adding a birdbath. They typically are shallow bows of water where birds come for a drink and to bathe. They can be created from a number of materials and can be located nearly anywhere. 
Bird baths may be part of a fountain, stream, or pond, or they may stand alone on a pedestal as a stand-alone feature. Wherever it is placed and whatever design elements and materials you choose, the neighborhood birds are bound to appreciate it.
Additions that Can Be Positive Features for Your Yard
Below are a few reasons a water feature might be a positive addition to your yard: 
Aesthetic Appeal:

A well-designed water feature enhances the beauty of your landscaping by giving it a focal point. They come in so many styles and designs that finding one to complement your exterior is only limited by your imagination.

Provides a relaxing atmosphere:

Listening to the sounds of the ocean lapping against the shore, soft rain falling on a tin roof, or the sound of a babbling brook creates a sense of relaxation in nearly everyone. Water features have the same de-stressing impact when added to your at-home landscape.

Attracting wildlife:

Nature lovers appreciate this aspect most of all. By adding a water feature to your yard, you invite butterflies, birds, fronts, and all manner of wildlife to come and enjoy it too. 

Property value increases:

The addition of a well-designed water feature can add beauty to your home. They are often considered luxury features and can help you fetch a better price for your home if you decide to sell. 

Benefits the environment:

Water features lend a hand to Mother Earth by providing environmental benefits. They increase the moisture in the air, filter pollutants from the air, and conserve water since they are continuously recirculated. 
The installing a water feature to your existing landscape, you are providing a myriad of benefits, from aesthetic appeal to a relaxing environment to unwind and enjoy visiting wildlife. A beautiful water feature can contribute to making your outdoor space feel serene and peaceful. 
Siara Designs Can Help You Select and Install the Perfect Water Feature
The team at Siara Designs really listens, so when you are determining what type of water feature you want to add to your yard, we pay close attention. We intend to convert your outdoor spaces into the beautiful, serene areas that you dream of enjoying alone and with your friends and loved ones. Contact us today, and we can begin designing your dream water feature.