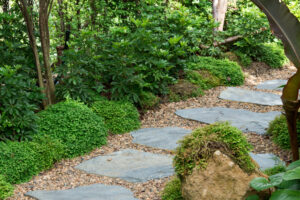 The grading in your Texas yard may go unnoticed until the first downpour, and it becomes apparent that your yard suffers from grading issues. Grading is essential to maintaining your lawn but can require equipment that most people will not have readily available. 
Our Texas grading team can address the grading issues in your yard to ensure your lawn and home stay protected and intact. Siara Designs works with your property to find the best grading solutions for your Texas landscape that complements your home. We strive to maintain the natural flow of your lawn while protecting it with proven solutions to fit your needs.
Why Grading Is Essential
Your lawn and home are subject to damage without proper grading. Grading establishes a gentle incline in your yard, directing water flow and precipitation away from your home. 
The grade should be mild enough to create a slow water flow, allowing moisture to soak in as it travels across your lawn. Too steep of an angle contributes to erosion, causing the soil to be disturbed and tree roots to be exposed. Erosion can also be damaging to your home's foundation.
Without any slope, water pools in a yard, causing standing puddles inviting to mosquitos and soggy lawns that can contribute to root rot and sinkage. It poses mowing challenges and allows dirt, mud, and debris to wash onto your walkways. Amending the grade as soon as possible keeps your lawn intact.
Correcting Grading Issues
Schedule an appointment with a grading solutions team to discuss the grading problems you want to address. Our trained professional Texas landscapers can work with you to pinpoint the issues and find solutions. Custom plans allow for precisely what will be most beneficial to your Texas landscape.
Reshape Your Yard
Bringing in dirt to provide a gentle grade is a great way to reshape your yard and make it more weather friendly. Adding soil to build the grade or removing it allows the problem spots in a yard to be effectively addressed. Siara Designs will address all grading options for optimal results.
Add Grasses and Plants
The grade of a lawn can become a problem over time. Hard rains cannot soak in evenly or quickly, so the water runs haphazardly in many directions. When this happens, it usually takes soil with it. To keep your soil in place and to prevent it from relocating to your neighbor's yard or down the street, add grasses and plants that grow deep into the soil's bed and hold it in place when the rainy seasons come. 
A healthy lawn can capture rainwater before runoff occurs. The rain that is not captured can be slowed by adding plants and ground cover. All of these elements create a barrier, keeping the grade of your yard more consistent. 
Create Retaining Walls or Terraces
Building up the grade in a yard can be accomplished using walls and terraces. Terraces are flat areas in a yard that step down gradually along a slope. This slows down rainwater and prevents erosion. 
A retaining wall can be added to hold the dirt back or keep it in place while redirecting rainwater. Both retaining walls and terraces give depth to your yard. Retaining walls can include native stone or brick. When water is routed appropriately, beds of flowers and shrubs can enhance these features to create mass planting areas.
Install Drainage Solutions
Drainage systems keep water from puddling and direct it from areas prone to standing water. French drains and surface drains divert water and prevent grading issues where water runs too fast or pools too long. 
French drains can reduce groundwater water and direct it away from structures and problem areas. Surface drains may be used when more significant amounts of water become an issue, such as at the bottom of a driveway, and consist of a metal grate flush with the ground's surface. Drainage systems can be small or connected throughout your landscape to protect your home and landscape from water.
Create Contour Swales
Gravel, river rock, boulders, and pavers prevent grading issues from runoff, allowing water to soak into the ground slowly. Hardscaping a Texas lawn is an impactful way to keep soil in place and address grading problems.
In areas of heavy runoff, river rock, and gravel can line and create swales that flow through your yard, leading water safely away from your home and causing minimal impact on the grade and landscape of a home. Additionally, lining a swale with rock allows for efficient water infiltration into the soil. The stones can create the illusion of a dry stream bed.
Consider What Is Underground
Working with a Texas landscape grading service allows you to prevent some common errors when grading occurs. Before any grading project, consider what is underground before dirt work begins.
Watch for Lines
Many utility services that run to your home do so underground. It is imperative for safety and to locate your home's utilities before work begins. Finding cables, power lines, water and sewer lines, and lawn irrigation services is essential.
Protecting Established Landscape
We will do our best to protect your existing landscape by observing established trees and shrubs to prevent root damage. Sometimes, this is unavoidable, but understanding what will occur during the grading and landscape process keeps you from surprises. 
Siara Designs works diligently to protect your landscape environment. We offer tree transplanting services in Texas to maximize your lawn space, enhance your yard's grade, and protect concrete patios and walkways from root damage. We want to improve the design of your lawn and never take away from it.  
Assessing Your Texas Landscape Grading Issues
The larger picture has to be considered, and preventive steps must be set in place to protect your property and address the grading concerns in your yard. A landscape design that considers grading issues can be the difference between a lawn that remains unharmed during summer storms and a foundation that begins to crack because the supporting soil has been washed away. 
Addressing grading issues benefits your home, landscape, and neighborhood. Speak with a member of Siara Designs today to schedule a Texas grading assessment and begin transforming your landscape.